Cables with approval (UL, DNV GL, VG, NPP, etc.)
Cables with approval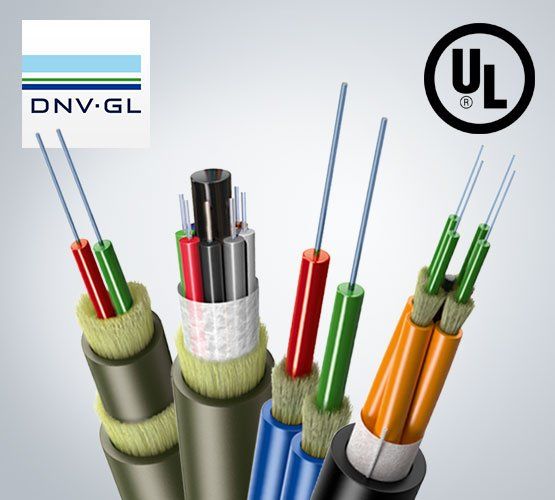 Cables with a wide range of international approval types for your advanced application
Cables with corresponding UL approvals guarantee safety and reliability in the application scenarios for which they are envisaged. You are always on the safe side with CPR cables for indoor use according to the EU Construction Products Regulation.
Cables with DNV GL approval can be found under Maritime Cables. We can also offer you cables with optical fibers to the MIL-PRF specification for use in radiation-threatened environmental conditions, and cables with approval for use in nuclear power plants (NPP).
Cable designs for the North American and Asian regions
Approval or release by an independent testing institution
Customer-specific UL approvals possible
Universal cables with total system integrity
Metal-free, lightweight, and flexible cable with DNV GL approval
Range of products and services
Product portfolio
Various UL-approved optical fiber cables
Radiation-hard fibers: 50/125, 62.5/125, each available as standard and bend-insensitive fibers
Singlemode and multimode fibers according to the MIL-PRF specification for use in radiation-threatened environments (approved MIL-STD 790 supplier to the U.S. Defense Logistics Agency)
Defense cables

Mobile long-distance field cables
Mobile outdoor cables
VG-approved breakout cables

Cables with NPP approval
Product properties
Flame-retardant
Halogen-free (product-dependent)
Radiation-hard (optional)
Suitable for harsh environments and high temperatures (optional)
Ordering options
Colors as requested by customer
Customer-specific design
Customer-specific UL approvals possible
Various approvals available
Fields of use
For military tactical field use and inside buildings
For use in distribution systems and for connections to devices
For direct connector assembly
For applications requiring special approvals
For vessels and offshore facilities
For use in nuclear power plants or radiation-threatened environments
Further information
Optical fiber cables are described in the UL 1651-Fiber Optic Cable standard and categorized as OFNP (Plenum), OFNR (Riser), and OFN (General Purpose). UL cables are primarily intended to meet very high standards in terms of fire behavior, including smoke gas production. Insurance companies, local authorities, planners, and other regulatory authorities in particular place their trust in UL-approved cables with single, multimode, or polymer fibers.