Fiber optical splitters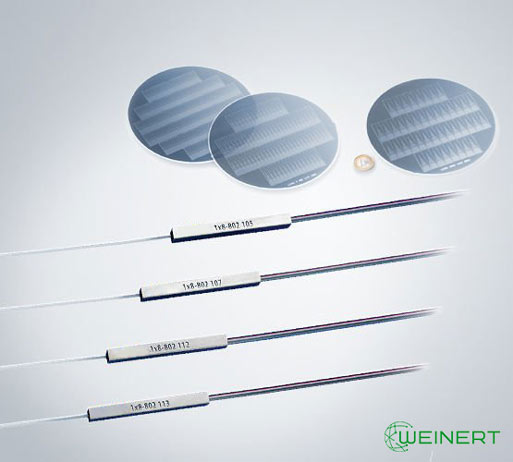 Fiber optical splitters for multimode applications
WEINERT Fiber Optics utilizes a photolithographic chip technology to develop and produce planar lightwave circuits (PLC).
Broadband transmission spectrum from 400 nm to 1,700 nm
Extremely low backscattering (important for metrology applications)
Low insertion loss
High reproducibility
Good uniformity for the individual outputs
Customer-specific input/output ratios
Customer-specific connector variants
Customer-specific housing designs
Range of products and services
Product portfolio
Multimode splitters for 50 µm, 62.5 µm, 100 µm, and 200 µm

Standard splitters (available for sample inquiries – see ordering options)

PLC designs available as standard
Feasible PLC designs

We are happy to develop new, customer-specific designs. The number of inputs can be varied here. The number of outputs must be a power of 2 (2, 4, 8, 16, 32,…).
Standard splitters
(available for sample inquiries)

| Waveguide diameter | Input x output | Standard connectors |
| --- | --- | --- |
| 50 µm | 1×2, 2×2 | LC |
| 200 µm | 1×2, 2×2, 1×4 | ST |
Product properties
Very low insertion losses
High uniformity
High extinction rate
Lowest POL
Widest bandwidth (780–1,060 nm and
1,260–1,650 nm)
Small, rugged metal housing
Any fiber assembly
Exceptional long-term stability – tested to Telcordia GR 1209 and 1221
Available PLC designs
Waveguide diameter
Input x output
Standard connectors

50 µm and
62.5 µm

1×2, 1×4, 2×2, 4×4, 4×8
Customer-specific
100 µm and
200 µm

1×2, 1×4, 1×32, 2×2, 2×8, 2×16, 4×4, 5×16

Customer-specific
Ordering options
Customer-specific input/output ratios
Customer-specific connector variants
Customer-specific housing designs
Customer-specific special properties (e.g. polarization maintenance)
Fields of use
Laser applications
Metrology
Sensor technology
High-power beam combiners and splitters
Optical power transmission