PCF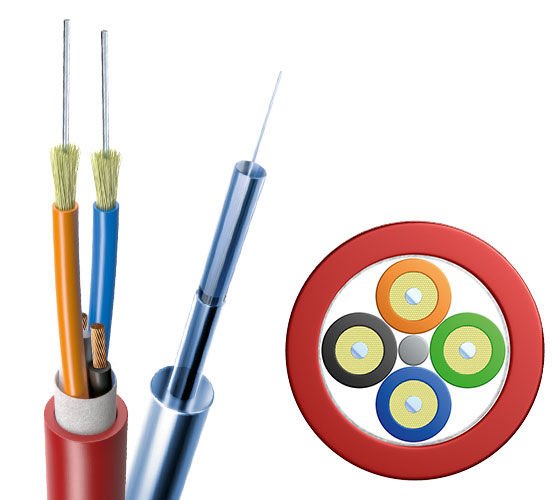 Polymer Cladded Fiber
Polymer cladded fibers (PCF) are characterized by their ruggedness, straightforward assembly, and a longer link length in comparison to POF (polymer optical fibers).
Over 20 years of experience in the manufacture of cables and assemblies with PCF, plus extensive application-specific know-how
Higher bandwidth than POF
Lower attenuation than POF
Fast, straightforward assembly technology
Can be assembled in the field (prior experience is useful but not required)
We can also supply the corresponding toolkits
Superior stability: rugged, flexible, resistant to ageing, low degree of influence from temperature and humidity
Compatible transmitter elements: LEDs, laser diodes, VCSELs, RCLEDs
With the changeover to PCF, existing POF systems can cover longer distances without needing to replace transmitters/receivers
Range of products and services
Product portfolio
Link lengths up to 500 m, up to 4 km with suitable active components
Temperature range: –40 °C to +125 °C, the cable design may limit the usable range
Bandwidth-length product: >20 MHz × km
@ 850 nm (underfilled launch)
Attenuation: <8 dB/km @ 850 nm
Very broad spectrum of cable types
Assembly with all standard connector types
Tools for field assembly
Product properties
WEINERT employs a fiber with a NA of 0.37 as its standard PCF, which exhibits especially low attenuation at 650 and 850 nm. The low attenuation means distances of up to 500 m can be covered in
systems designed for POF with 650 nm, while up to 4 km can be covered in systems with 850 nm.
Ordering options
Connector and assembly options for indoor and outdoor use
Suitable for use with drag chains
Media resistance
Flame-retardant
Pre-assembled
Halogen-free with UL approval
Profinet
Buffer tube colors for multicore PCF cables
Buffered fibers with printed identification
Fields of use
Automation and drives
Wiring for wind power and solar panel systems
Sensor technology
Further information
Worldwide, various product designations for these PCFs, such as PCS, HPCS or HCS, are now established, although these fibers differ in detail – and especially in terms of cleavability. We guarantee stable and reproducible cleavability with our PCFs.