CPR cables
CPR cables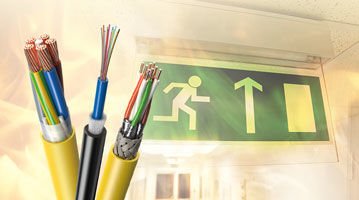 CPR cables - Fire-resistant cables for indoor use according to the EU Construction Products Regulation
Saving lives, stopping spread, and minimizing long-term damage –  these are the priorities if a fire breaks out. Electrical and optical CPR cables must also play their part in meeting these priorities – especially because of increasing cable densities in modern buildings.
WEINERT offers a wide range of cable designs to meet the various safety requirements in buildings and according to the EU Construction Products Regulation (EU 305/2011).
WEINERT has been the world's leading supplier of safety cables for many years now. Whether you need infrastructure, energy, data, or communication cables: WEINERT offers the best level of fire resistance now offered by modern cable technology.
Optical fibers for all safety requirements: fire-resistant cables with reduced flame propagation and heat development with the simultaneously low release of corrosive gases and smoke, according to the new Euro classes and based on the building's fire risk.
Range of products and services
Product portfolio
Alongside standard cables compatible with the new Dca or Eca fire ratings, we can also offer cables compliant with fire ratings B2ca and CCa.
Product properties
Flame-retardant
Halogen-free
Fire ratings
Ordering options
UV-resistant
Colors as requested by customer
CPR-approved
Individual CPR approvals possible
Fields of use
Server rooms
Road tunnels
Rail tunnels
Basement parking
Public buildings
Schools
Airports
Hospitals
Industrial environments