Hybrid cables
Hybrid cables and multifunctional cable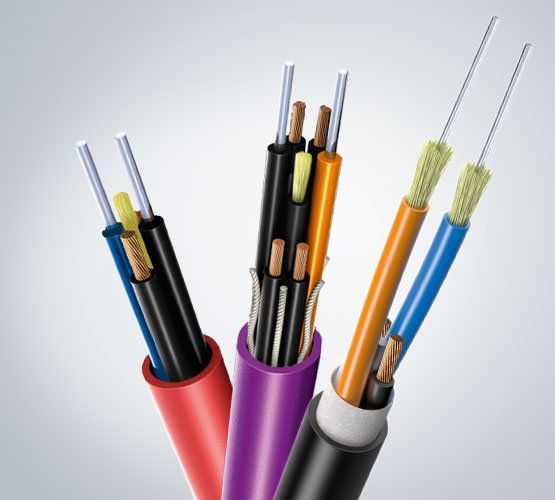 Hybrid cables - Multifunctional cables with various cable elements
A wide variety of cable elements can be combined within our hybrid cables, including copper buffered fibers, optical fibers, coaxial cables, shielded pairs, as well as data/control/supply lines. Combinations of different fibers, such as singlemode with multimode fibers, are also possible within one hybrid cable / multifunctional cable.
Space-saving cable construction with small outer diameters
Time-saving installation with connector-ready cable assemblies
Connect multiple applications with one hybrid cable / multifunctional cable
Individual cable designs from 1 km minimum order length
Range of products and services
Product portfolio
Types from 2 to 288 fibers, with singlemode and multimode fibers
Multifunctional, reinforced glass rovings, moisture barrier as strain relief and rodent armoring
Copper elements up to max. 4 mm²
Product properties
Halogen-free
UV-resistant
Direct ground laying
Metal-free
Rodent armoring
Transversely waterproof
Longitudinally waterproof
Fields of use
Mechanical engineering
Factory automation
Robotics
Instrumentation and control engineering
Imaging systems
Audio and video technology
Special applications
Primary cabling
Backbone area
For pulling into conduits
Installation on cable trays
Direct ground laying
---
Frequently Asked Questions about Hybrid cables
1. What are Hybrid cables and Multifunctional cables, and how are they utilized?
Our Hybrid cable and Multifunctional cable are specialized cables that can incorporate a wide variety of cable elements such as copper buffered fibers, optical fibers, coaxial cables, shielded pairs, as well as data, control, and supply lines. They enable multiple applications to run simultaneously through a single cable, which makes them a versatile solution for complex installations where multiple types of cable would otherwise be required. They offer both space and time-saving advantages, reducing the complexity of installations and improving efficiency.
2. What are the benefits of space-saving cable construction and what does a smaller outer diameter imply in the context of hybrid cables?
The combination of various cable elements within a single hybrid cable results in a space-saving cable construction. This implies that less room is required for cable management and installation, which is particularly advantageous in space-restricted environments. A smaller outer diameter further contributes to space-saving and can also enhance the flexibility and handling of the cable.
3. What does a minimum order length of 1 km for individual cable designs signify?
We offer the option to create individual cable designs tailored to specific requirements. The minimum order length for these custom-designed cables is 1 km. This means that we are able to design and manufacture cables to your specific requirements, provided the order meets this minimum length.
4. What does 'Product properties' mean with regard to hybrid cable?
'Product properties' refers to the specific attributes and characteristics that define our hybrid cable. These include being halogen-free, UV-resistant, suitable for direct ground laying, metal-free, equipped with rodent armoring, and both transversely and longitudinally waterproof. These features ensure the durability and reliability of the cables in various application environments.
5. What does it mean for a cable to have 'singlemode and multimode fibers'?
'Singlemode' and 'multimode' fibers refer to the types of fibers that can be used in our hybrid cable. Singlemode fibers allow for the transmission of light signals over greater distances, making them ideal for telecommunications and networking applications. Multimode fibers, on the other hand, allow for the transmission of light signals over shorter distances, making them ideal for applications such as local area networks and data centers. Our hybrid cable can incorporate either or both types of fibers depending on the specific requirements of the application.