Simplex/duplex cable I-V(ZN)H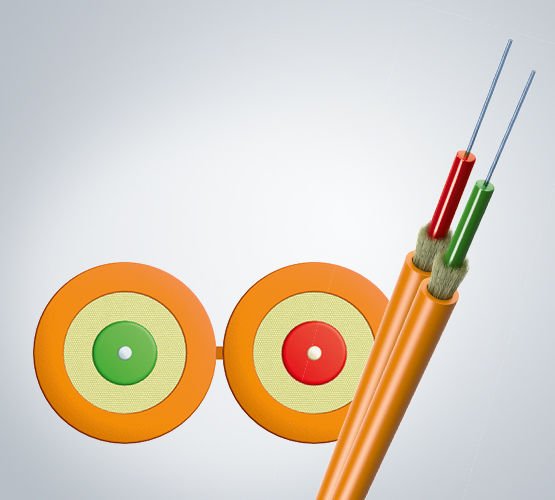 Indoor cables for producing assembled connection cables for any network topology.
Depending on the transmission rate required and the distance to be covered, either multimode fibers with various specifications or singlemode fibers are used for these cables.
To comply with the strict fire safety requirements for indoor applications, cables with halogen-free and flame-retardant cladding are required, since these ensure that a fire is not propagated further along cables, and that cables do not produce corrosive or toxic gases.
Halogen-free
Flame-retardant
Increased tensile load-bearing capacity possible
UV-resistant (optional)
High diameter consistency
Can be designed individually for various applications
Range of products and services
Product portfolio
Wide range of diameters for single elements (3.0 mm, 2.8 mm, 2.4 mm, 2.1 mm, 2.0 mm, 1.8 mm, 1.6 mm)
Wide range of buffered fibers (tight jacketed, semi-tight buffered) with a diameter of 0.6 mm and 0.9 mm
Product properties
Flame-retardant
Halogen-free
Ordering options
UV-resistant
Colors as requested by customer
CPR-approved
Strain relief
Also with PUR cladding for industrial applications
Fields of use
Patch cables in distribution systems
Connection cables for devices and for workplace cabling
For direct connector assembly