Maritime cables
Maritime cables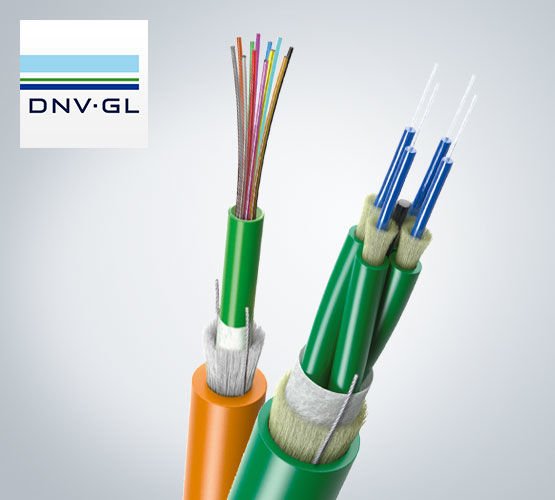 For permanent installation on vessels and offshore facilities
Even in the event of a fire, optical fiber cables need to remain fully functional for a specified period of time (total system integrity). DNV GL type approval ensures that shipyards are able to install an optical fiber maritime cables that has been tested and certified according to valid standards. In shipbuilding in particular, the reliable interplay of many components is of decisive importance to ensure trouble-free operation.
Halogen-free
Flame-retardant
Metal-free, lightweight, and flexible cable with DNV GL approval
Universal cables with total system integrity for 90 min
Range of products and services
Maritime cables - Product portfolio
Breakout cables (2 to 12 fibers) and central universal cables (2 to 24 fibers)
Singlemode and multimode fibers (OS2, OM2, OM3, OM4, OM5)
Total system integrity for 90 min
Maritime cables - Product properties
Flame-retardant
Halogen-free
Maritime cables - Ordering options
Colors as requested by customer
Fields of use
For permanent installation on vessels and offshore facilities in areas relevant for safety and at risk of fire
Suitable for direct connector assembly
---
Frequently Asked Questions about Maritime cables
What makes the marine cables from WEINERT Industries particularly suitable for use on boats?
WEINERT Industries specializes in the production of marine cables designed specifically for use on boats. Our cables provide excellent flexibility and resistance to harsh sea conditions. Thanks to our special manufacturing process, our cables are extremely robust and can be easily used with any type of installation material for boats.
What marine connectors does WEINERT Industries offer?
WEINERT Industries offers a wide range of marine connectors specifically designed for on-board use. These are not only water and corrosion-resistant but are also easy to install and use. They are ideal for the wiring of watercraft and ensure a reliable connection, even under the most difficult conditions.
How does the flexibility of cables contribute to performance in maritime applications?
The flexibility of cables is a crucial factor, especially in maritime applications. Flexible cables are easier to install and handle, especially on boats where space is limited. They also better withstand the constant movements and vibrations common on boats. WEINERT Industries places great emphasis on the flexibility of its ship cables to ensure optimal performance and durability.
How can I install WEINERT Industries' lines on my boat?
The installation of our marine cables on boats is very straightforward. All you need is the appropriate installation material for boats and our easy-to-understand installation instructions. Our cables and connectors are designed to be easily installed even by non-experts. For more complex installations, however, we recommend hiring a professional.
What solutions does WEINERT Industries offer on the subject of power on board?
WEINERT Industries offers a variety of solutions to the subject of power on board. In addition to our high-quality marine cables and connectors, we also offer integrated power supply systems for watercraft. These systems are specifically tailored to the needs and challenges of maritime applications, ensuring reliable and safe power supply at sea.