Protective tubes, plastic tubes and reinforced tubes
Protective tubes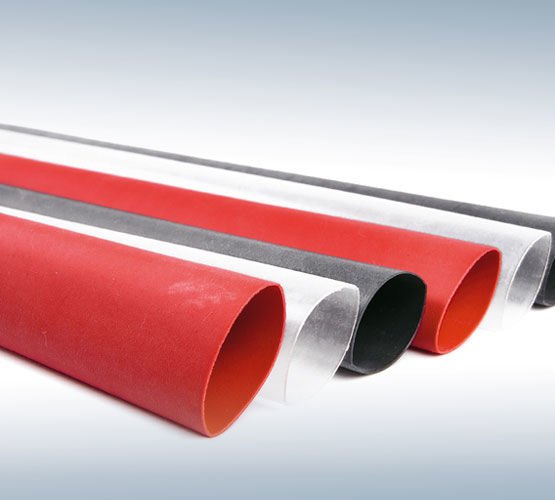 Mechanical protection for optical fibers - protective tubes, plastic tubes, reinforced tubes
While optical fibers are fairly durable, they often cannot withstand all possible environmental conditions – especially those in harsh industrial surroundings. This is where additional protection becomes necessary, which prevents the fibers from being damaged or coming into contact with substances that could adversely affect their transmission performance or longevity. Protective tubes are available for various optical fiber assemblies, to protect against damage from longitudinal and transverse forces, and various environmental factors. Plastic tubes and reinforced tubes are used for the direct assembly of multi-fiber loose tube cables with fanout elements for mechanical protection of the fibers. To ensure proper handling of cables during installation and maintenance work, the application of warning marks is very helpful and easily achieved.
Appropriate protection for almost any optical assembly requirement
Against damage from longitudinal and transverse forces
Against various environmental factors: flame-retardant, rodent protection, limiting the bending radius, vacuum-compatible, high-/low-temperature resistant, with strain relief, non-crushable, and many more
For proper handling during installation and maintenance work (e.g. colored markings and warning notices)
Range of products and services
Product portfolio
Protective tubes

Plastic
Metal
Metal/plastic
Metal/silicone
Fabric

Plastic tubes and reinforced tubes for cable dividers
Maximum assembly length: 200 m (depends on fiber, tube, and cable type)
Available only as an assembly option, not available separately
Product properties
Depends on material
Flame-retardant
Media resistance (oil, water, acids, bases, etc.)
High- and/or low-temperature resistant
Electrically conductive
Abrasion-resistant
Limiting bending radiuses
Halogen-free
Metallic/non-metallic
Integrated strain relief
Vacuum-compatible
Non-crushable
Strain-relieved, anti-twist
Ordering options
Available only as an assembly option, not available separately
Minimal permitted bending radius: depending on the optical fiber used, the deployment of special tubes to limit the bending radius is possible to protect the fibers
Lateral compressive strength
IP ratings: Various IP ratings (depends on tube type)
Marking: tubes can have customer-specific printing

printed shrink-fit tubes in signal colors, and variable intervals and lengths
direct printing of tubes with warning notices
various colors for differentiation
Assembly fiber type
Connector type
Further information
We offer these items only as part of an assembly. Only in this way can we ensure that the connection technology is compatible with the protection and that the assembly really does perform as specified. Our Product Engineering unit, company-internal assembly, and our long experience as fiber optics experts ensure the compatibility of all components and the fulfilment of all requirements for the final assembled product.